It's a program that generates subtitle templates using the video that you want to subtitle as a visual resource, while the sound spectrum is automatically visible next to the video.  
The most current version is the one published in 2013: 
http://blog.aegisub.org/2013/06/aegisub-303-released.html
You can also find it on uptodown:
https://aegisub.uptodown.com/windows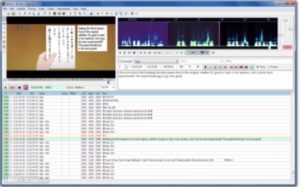 As you can see in the image, the translator can insert subtitles in the bottom part of the program. You can either use the sound spectrum in the top right or selecting the time manually directly in the template.
In addition, the program allows you to choose from different fonts for the subtitles as well as change the colour and position of the text. It includes numerous commands to input a line break, bold letters, italics, underline, etc.
Here is a blog with all the commands for the program: 
https://jinfansub.webcindario.com/
In case you need a visual, here are some video tutorials on how to use the program. 
Videos in Spanish
 https://www.youtube.com/watch?v=SV5G7cZ-NwA
Videos in English:
https://www.youtube.com/playlist?list=PLqazFFzUAPc7BgGTaDAvvsGEoLolq09YP
However, while this program is ideal for subtitling the saved project is a subtitle template, not the subtitled video. Therefore, we need a program that synchronizes the video content and the content of the subtitle template created from AEGISUB. 
For this task, we recommend AVI Recomp: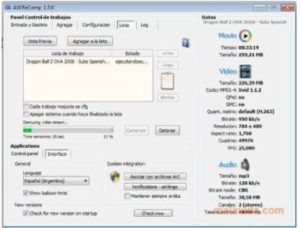 This program will allow you to import the subtitle template and the video on which the template is based in order to synchronize them and obtain the video with subtitles.
Here is a video tutorial with the steps to follow to perform this process: 
https://www.youtube.com/watch?v=p-DDWn8ep-w