A blunder in the Japanese market.
While the Warner Bros studio took advantage of this new movement which began on social media as an additional marketing initiative, interacting positively with this type of posts on social media, the Japanese market did not take it well at all.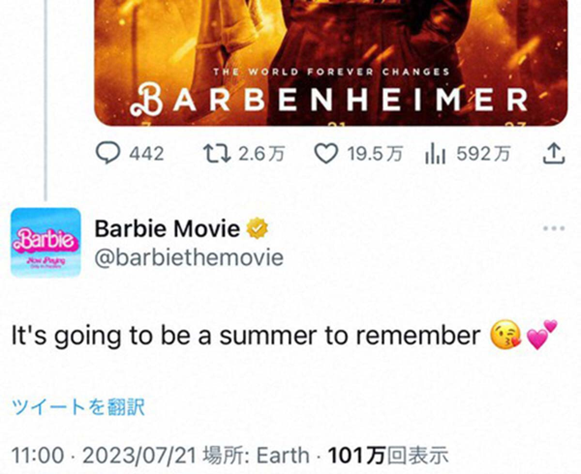 The Barbie movie Twitter account, now X, made this unfortunate comment about one of the Barbieheimer images, "It's going to be a summer to remember." They didn't take into consideration the fact that on 6th and 9th of August 1945, the cities of Hiroshima and Nagasaki (Japan) were bombed. These were the first atomic bombs used directly on civilian population.
A clear example of carelessness in internationalisation.
Oppenheimer's film is based on the book 'American Prometheus: The Triumph and Tragedy of J. Robert Oppenheimer' and tells the story of physicist and mathematician J Robert Oppenheimer, who became the father of the atomic bomb during his time on the Manhattan Project.
This project was responsible for carrying out the bombings of Hiroshima and Nagasaki in 1945. According to some estimates of the tragedy, more than 250,000 people died from these atomic bombs.
It's no wonder the playful and lively tone of Barbieheimer has not been successful in Japan. The images created by users to illustrate the summer shared between Barbie and Oppenheimer that combine different graphic elements, including explosions, have been interpreted as a trivialisation and parody of what happened in Japan in 1945.
History and culture in language.
A language should not be understood solely as a set of rules and structures. In translation we know that a language is a living element, and its purpose of communicating is subject to a historical and cultural evolution that impacts both directly and indirectly on grammatical structures and morphology.
This can be clearly seen in:
Grammatical structures influenced by the existence of a social hierarchy.

The difference between a formal, standard and colloquial register are the result of this situation. These registers change in their application depending on the language and country of destination.
T

he metaphors and phrases reveal unique aspects of the history of the country of origin,

as well as collective experiences of the society. Phrases that, despite containing a meaning that can be shared with other cultures, are expressed with situations and contexts with a single denomination of origin.

The changing use and appropriation of meaning.

A terminological unit as well as a single word may vary in intentionality and meaning because of the evolution of the use of the language to which it belongs. A historical event or the inappropriate use of a term can drastically change the speaker's perception.
All these factors residing in a language are key to safely internationalise to a new market. This is why the role of the native translator in the target language is so important.
We are talking about a linguistic professional who not only has a native knowledge of the language, but also knows all these connotations and is impacted by them on a daily basis.
Brand Shaming and its unstoppable halo effect
This situation has caused Brand Shaming to both feature films and even to the companies associated with them.
A petition was created almost immediately on Change.org with the aim of ending posts with the hashtags #barbieheimer or #barbenheimer. At the same time, the hashtag #NoBarbenheimer became a trend on social media.
This situation led to the Japanese subsidiary of Warner Bros issuing a critical statement against the production company's parent account.
Even the dubbing actress of Barbie for the Japanese version, Mitsuki Takahata, expressed her dissatisfaction with this trend on social media and warned of her possible abandonment of the project.
Localisation is a necessary step in the internationalisation of a product, service or brand. It's a delicate process that must count on the experience and action of a native team in the target language. Avoiding Brand Shaming and its unstoppable halo effect on the brand image and associated companies or actions is one of our priorities in each of our translation projects.
We count on the support and work of natives who are experts in their culture, who translate and localise the content, so that the internationalisation of the companies that rely on BigTranslation is a safe and effective process.
Give your brand the care and value it deserves in all your target markets. Trust in who is doing the work, with professionals who are experienced in your industry and market. BigTranslation will help you during the translation and localisation process, giving you a unique experience for your brand.
---
     👉  We'll provide original, high-quality content with the assurance of a native speaker to your                              website. You can place your order or calculate your quote without any obligation.
---