How to correctly create a link in your translation:

The way that we create links on the platform has slightly altered over time. To make sure that you are using the correct format in your translations, please take a look at the following information:
To correctly create a link, highlight the word (or word string) that requires the link in your target text. Right click on the word(s) and select Insert link.
A dialogue box will appear. You then need to ensure that the correct code appears in the URL code field (our system uses codes rather than web addresses for link URLs). No other text or numbers should appear in the URL box other than the code.
The following are the correct codes for the corresponding words in EN, you will need to use them accordingly in your translation.
References to BigBuy:
##CMS_0##
References to wholesale price:
##CMS_8##
References to drop shipping:
##CMS_9##
References to dropshipping shops:
##CMS_10##
References to become a distributor:
##CMS_15##
References to wholesale packs
##CMS_34##
The Text to display should be your target text term, with no spaces before or after.
In the Target, you should see the word None.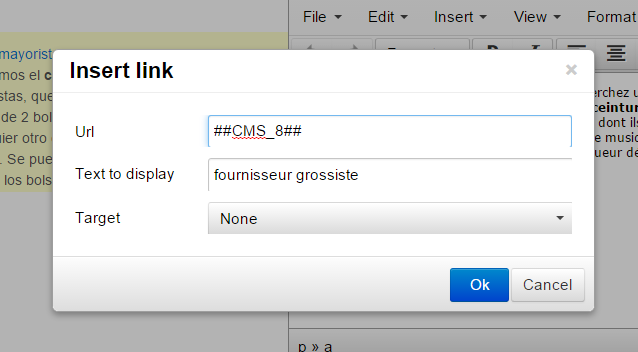 IMPORTANT NOTE:
When a product website address is included in the text, the link can be copied and pasted from the source text. Once you have done this, you will still need to right click and select Insert link. You should then check that the URL code and Text to display both show the website address. Importantly, for this type of link you will need to set the Target to New Window in the drop down menu.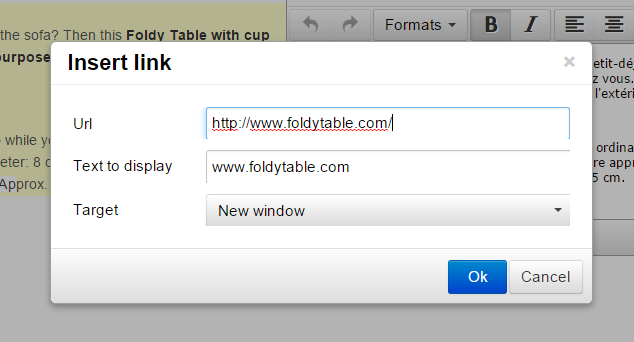 Many thanks and please get in touch with the team if you have any queries about links in your translations!