As previously mentioned in our blogs, we at BigTranslation know the realities of business and commerce inside out, so we are more than aware of the important role that translation plays in international cooperation between people from all sorts of backgrounds. With this in mind, we'd like to take this opportunity to correct one of the biggest misconceptions in the history of language.
"Ich bin ein Berliner" ("I am a Berliner") is a quotation from a June 26, 1963, speech by U.S. President John F. Kennedy in West Berlin. Speaking in German, John F. Kennedy said "I am a citizen of Berlin."
Pronounced at the height of the Cold War, with the intention of underlining the support of the United States for West Germany following the erection of the Berlin Wall, the speech is remembered as being one of Kennedy's best. However, it is also the source of one of the most widely believed myths in the history of popular culture.
There is a common misconception that Kennedy made a rather comical error in pronouncing the words Ich bin ein Berliner. As the myth goes, his use of the definite article would change "I am a citizen of Berlin" to "I am a Berliner" (a Berliner being a type of German pastry, similar to a jelly doughnut). However, scholars of German will know that the indefinite article is omitted in German when speaking of an individual's profession or residence, but still used when speaking in a figurative sense. Since the President was not literally from Berlin but declaring his solidarity with its citizens, "Ich bin ein Berliner" was the only way to express what he wanted to say.
Unfortunately, this still hasn't deterred everyone from Len Deighton to Eddie Izzard using the misconception surrounding the phrase for comic effect, nor did it prevent JFK's political opponents from repeating it to have a cheap laugh at the Bostonian President's supposed linguistic ineptitude. On one hand, the extent to which this misconception has managed to manifest itself in popular culture is quite remarkable. However, the idea that translation may be used as a political football is less uncommon than one might think.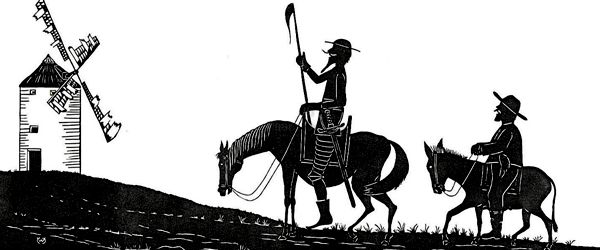 In Catalonia last year, the Institute Nova Història made the rather surprising claim that, for centuries, Spanish leaders have used translation to downplay the role of Catalonia in the country's history. They even went so far as to claim that Miguel de Cervantes' famous Don Quixote – widely considered to be the first modern novel – was in fact written in Catalan by Cervantes and subsequently translated into Spanish. It is argued that several linguistic errors in the text point to the possibility that Don Quixote was translated into Castilian from Catalan.
For a translator to provide an accurate, unprejudiced view of the characters and events which shape history, he or she must have an in depth knowledge of the social and political issues surrounding the source language and the people who speak it. If the whole story of Ich bin ein Berliner tells us anything, it's that translators of the past haven't always lead by example in this sense. And if the initial translations of Saddam Hussein's last book (ranging from 'Devil's Dance', 'Begone Devils' to 'Get Out, You Damned One') are anything to go by, it's clear that the translators of today have got still got their work cut out for them.