The arrival of the Internet has marked a turning point for the media, and they have had to adapt to a completely new reality.
It is true to say that this change has brought with it some disadvantages, but it has also brought good things. In contrast to the times of printed news, today the media can reach people anywhere in the world and, if their content is translated into various languages, then so much the better.
At BigTranslation, we are specialists in translating all kinds of content for blogs and other media.
From our experience, we have taken various pieces of advice and some things that you should keep in mind when searching for a translation for your communication medium or your blog.
Are you ready? Then let's begin.
Why should you translate media content?
There are thousands of different types of communication, and each one has its own requirements. Nonetheless, they all have one thing in common: their content is the cornerstone around which everything else revolves. We are talking about all kinds of content: articles, opinions, podcasts, news videos…
Sometimes, this content is not even our own product! It can be a re-published part of a feature article which was published by another medium, or even articles created by users or followers who want to collaborate with a specific medium or blog (such as on the Medium platform).
With the Internet, making this content reach thousands of users is simpler than ever before. And this is great! It will generate more traffic to our website, more subscriptions, increased income through publicity, etc. If you are a printing medium with an online version, an active website will boost sales of your paper editions.
But, in order to reach all of these people, you cannot remain in just one language. Translating your content is essential for reaching the maximum number of people.
How do I decide which language to translate my content into?
Today, on our planet, there are more than 7,000 different languages spoken. Although translating our media is important, and as translation requires both time and money, one needs to apply some common sense. It is important to choose wisely which languages to offer your content in.  
Here is some advice for you on this subject:
Firstly, and most importantly,

do a market study and define your strategy

. You need to identify readers who are interested in the subject matter, or markets in which competition is low. If, for example, you have a blog in which you talk about new technologies, you could try translating your content into Spanish, as digitalisation in certain Latin American countries, like Argentina or Mexico, has grown in recent months.

If you don't know where to begin, here is a piece of information that might help you: If you translate your communication or blog into

the 10 most widely spoken languages

on the internet, you will be reaching no less than 77% of internet users. That's a start, isn't it? It would mean the exponential multiplication of your initial users. Those ten languages could be a good starting point from which to establish new markets to reach out to.
You need to support all this with tools to confirm that your strategy is well-focussed.
Google Keyword Planner

: This Google tool will tell you the searches for a particular key word determined by a language or country of your choice. If searches related to travel are greater in Argentina than in Brazil, perhaps you should consider translating your media into Spanish rather than Portuguese (although, at this point, you also need to consider your competition).

Google Trends

: This is another Google tool which is the perfect complement to the Keyword Planner. Google Trends will show you the evolution of searches on one term. You can filter by area and by date, which can help you to view the interest of a specific group of people on one subject. It is perfect for detecting trends.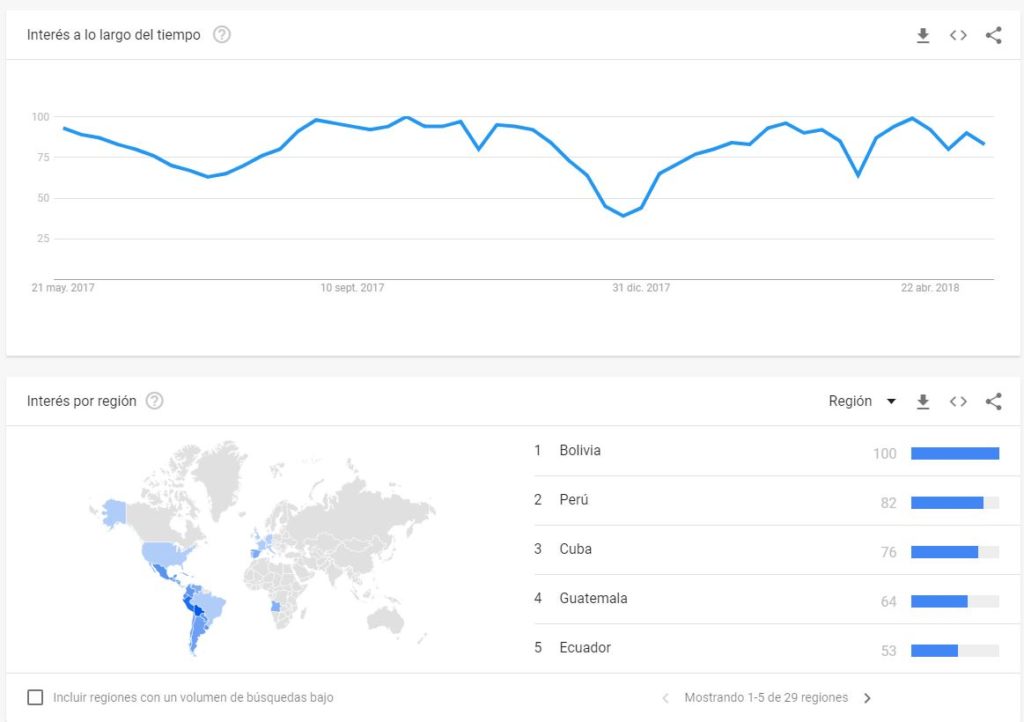 What can be translated in media or in a blog?
Each communication medium and each blog has its own requirements, and each type of content will need to be translated if you want to internationalise the message.
At BigTranslation we continuously work with media and blogs of all kinds, and we have found content that is repeated. For example:
News, reports, opinion articles, reviews…

Anything which constitutes a traditional means of communication. Some of these publications are quite timeless, others less so. If you have media content to publish (such as a news item) and time is a priority, it is advisable to request an urgent translation from your translation agency.
Press releases:

As a means of communication, you will receive more press releases than you send out. If you work in a media agency and you generate press releases, you should translate these so that they are accessible to media all over the world.
Media kits:

A basic tool to monetise your communication media. Your media kit should present your communication, your target audience and the main publicity support you propose. If you plan to start publishing in other languages, it also makes sense to translate your media kit.
Newsletters: Newsletters are a basic tool with which to reach your users. Whether daily, weekly or whatever timescale you decide, you can make the most interesting articles that you have published reach your users, and give your website a traffic "boost".
Your website:

Obviously. If your articles are translated, your website can't be left half finished.

Translating a website

is quite simple to do if you work with a platform like WordPress. If your website design is bespoke, keep translation in mind so that you do not leave yourself without this option in the future.
Apps: Although these only tend to be affordable to the more powerful media, it is becoming increasingly common to read the news on a mobile app. In the same way as you need to translate your website, you can translate an app so that it can be read by users in their own language. The good thing about apps is that they allow you to send

push

notifications and to promote the viewing of your articles and videos.
Publications for networks:

Yes. You also need to translate your publications on Facebook or Twitter. Each network offers possibilities: Facebook, for example, allows you to publish the same content in two languages. Twitter does not. That is why many businesses opt for creating a specific Twitter account for each country.
Transcription of interviews:

If you have recorded an interview at any time, you will know how dull it is to transcribe and edit it so that it is legible. In translation agencies like BigTranslation, we can transcribe and translate audio and video recordings for you (if you need this, once we have transcribed them, we can translate them).
Transcription of speeches or conferences:

In the same way that we can transcribe a recorded interview for you, we can also turn other formats, such as a conference or a speech, into texts. This can be very useful for "covering" this type of event. You can then offer the reader of your media the video, a written transcript and a personal review of the event. All in their own language.
What should you look for in a translation agency?
Before you launch into translation, you should choose a good agency that knows what they are doing. Some aspects to consider are:
That they only work with native language translators:

Run away from translations that are carried out by robots! There are agencies that pass your text through an automatic translator (such as Google Translate) and then do a "post edit". Yes, the end result is legible, but the kind of quality one expects from media or a blog doesn't get a look in. Always look for agencies that use native translators, they are the only professionals that can guarantee you a quality result which captures all the nuances of the text.
That they can offer you a translation with SEO:

We believe we are right in saying that, for media, the SEO is the most important channel for generating traffic. If you translate your texts without thinking about their positioning, all the SEO work done in the original language will be lost. At BigTranslation we offer SEO translation: This way, if you provide us with a specific keyword that you want to place in the text, we will do so naturally throughout the text. We can also translate the meta tags in your publication (title and description) and keep to the maximum number of characters indicated by Google.
That the process is as automated as possible:

Speed is essential for communication. Look for a translation agency that will give you an automatic costing and which is flexible and approachable. At BigTranslation we have a digital platform which, by merely uploading the text, we will provide you with an instant quote, without obligation. Once you accept the quote, our automated platform will select the most appropriate translator for your project.
For those that require a summary. The most important parts of this article:
If you don't have time to read the whole article, here is a summary of the most important points about translating content for media and blogs:
Translation is a basic requirement for communication media.

Thanks to the Internet, you can now reach more people than ever before, but you need to do this in their own language. Use tools like Google Keyword Planner or Google Trends to define your strategy and to choose what countries you want to reach.

You can translate any type of content:

News, features, opinion articles, etc. As well as media kits, or even your website and your media App.  If you record interviews or conferences, at BigTranslation we can transcribe them and translate them into the languages of your choice.

Choose a good translation agency:

Choose an agency that works with native language translators and which offers you translation extras, such as SEO or urgent translations.